Faribault Assisted Living Website Design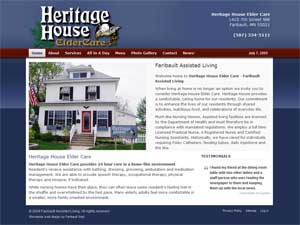 Heritage House Elder Care needed a custom website to showcase and market their Faribault Assisted Living home. Using the Internet they were able to fill a couple of  rooms within a few weeks of the website launch.
Heritage House is is aply named. This Faribault Senior Care Living facility is rich in not only it's beautiful homey decor but in the quality of care given to it's residents. The Heritage House Elder Care photo tour shows off the real character of this senior facility.
Can you take Abilify by snorting the drug? In a pharmacokinetic study, male and female subjects with acne vulgaris were randomised to receive either 2 gram of Aczone gel, 7. Evinacumab-dgnb blockade of ANGPTL3 lowers TG and HDL-C by rescuing LPL and EL activities, respectively (Regeneron, 2021a) ليقرأ. However, a definitive cause and effect relationship between these events and diltiazem therapy cannot yet be established.
For the purposes of geo-targeting, FaribaultAssistedLiving.com was a wise choice as it is  keyword rich. It describes where they are and what they do. The website has been tuned to take advantage of search terms used to find care for the elderly.  Faribault Assisted Living quickly took over the #1 position for the term Faribault assisted living and Faribault elder care.
We are pleased with the results Del and Julie Spronk are getting with their website and they are delighted to once again have a full house.